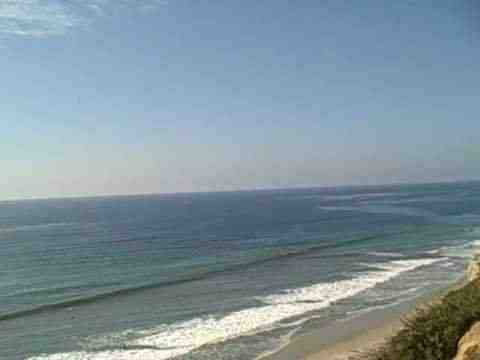 Encinitas OK to intervene at Beacon Beach
Neptune Avenue site of massive landslides
Adam Young of Scripps: "There are already a few holes in the area that haven't caused any problems. This may interest you : Encinitas council chooses realtor to replace ousted planning chairman."
Encinitas City Council voted unanimously to deny the appeal against a seismic monitoring project at Beacon's Beach, following a cliff collapse in May.
According to neighbors, the night landslide did not justify the emergency repairs the city launched in response, collaborating with the Scripps Institute of Oceanography to place temporary and permanent monitoring devices on the cliff.
Temporary monitoring devices from Beacon's.
The site at 948 Neptune Avenue is known to be a risky area. According to a staff report, Beacon's Beach was historically created by a series of massive landslides between faults crossing its access path.
In 1982 and 1983, the previous stairs were damaged by slides during winter thunderstorms, and further bluff landslides occurred in April 2020. Then, on May 1, 2022, the northern part of an old landslide reactivated, creating numerous visible cracks in the slope, and damaging the path that leads from the car park to the beach.
The next day, the city contacted the state coastal commission to obtain an emergency permit to immediately close the cliff and the public footpath. On the same day, the fences were raised and equipment entered – "work not allowed," claims plaintiff Matthew Gordon, who lives on the south side of the beach.
In addition to temporary sensors and equipment for cliff stability and monitoring, a temporary fence was placed at the top of the cliff and the car park was closed to block access to the fault area.
In a few days starting June 20, the city repaired the existing public access path to the beach, which according to them is exempt from a coastal development permit.
The lot is divided into residential zones and falls within the Ecological Resources Open Space Park area, the coastal headland coverage and the appellate jurisdiction of the California Coastal Commission.
As the $ 406 appeal of county planning commission approval for primary use and coastal development permits claims, the coastal commission did not issue the emergency permit until June 29.
Was the work done correctly? In addition to questioning the amount of illegal work on the cliff, the $ 2.5 million project – part of which is used for monitoring – soil disturbance, beach closure and equipment installation, critics said. that no private property owner would be allowed to disturb a bluff without the proper permissions.
According to the city, no permit was needed because the repair and maintenance of existing structures are exempt from a coastal development permit.
The California Department of Parks and Recreation, which owns the beach, is aware of the scale of the work being done and has cleared the work, city staff said.
"With an emergency permit we are given the authority to move forward" with decisions and times set by the city, said Councilor Joy Lyndes.
Another problem was grading, which is generally prohibited on coastal cliffs. But the city said it initiated repairs to the public access path after the chute was found stable by Geopacifica, the city's third-party consultant, and the work was exempted from an emergency coastal development and development permit. coastal town.
The consultant recommends reopening the existing public access to the car park to the public.
The proposed work will require digging shallow trenches in the parking lot, some digging and drilling wells to install seismic measurement devices along the cliff and beach path.
Adam Young, a Scripps researcher, the project candidate, said digging and other work shouldn't hurt bluffs. "There are already some holes in the area that haven't caused any problems." Beacons' work plan has been independently revised by professional engineers, he added.
Del Mar is another focus site of the same monitoring project, but nothing is installed in the bluffs yet. Researchers are currently planning and clearing the installation of similar sensors along the tracks of the Del Mar train.
As for the visibility of the equipment, the researchers said that much of it will be underground, except in the northwest corner where there will be a tree with a GPS receiver.
Permanent monitoring equipment on the cliff will measure seismic activity on the beach, data the city can really use when it comes to providing safe pedestrian access.
"The landslide encompasses virtually the entire coastal cliff below the car park down to the beach, including public parking and public access."
Is Buccaneer Beach dog Friendly?
Buccaneer Beach Park Dogs are not allowed on Buccaneer Beach, which is adjacent to the park, but they are allowed in the park if they are on a leash. This may interest you : The long-awaited El Portal underpass opens in Encinitas. Off-leash times: dogs must always be kept on a leash.
Which beaches allow dogs in Oceanside? Can I take my dog ​​to Oceanside parks or beaches? Dogs are not allowed on Oceanside beaches. Please visit North Beach (Dog Beach) in Del Mar if you wish to share the ocean with your four-legged friends. Dogs ARE allowed in City of Oceanside parks and must be kept on a leash.
What is the most dog friendly beach in Florida?
Fort De Soto Park, Dog Beach and Paw Playground. …
Palm Coast and Flagler Beaches. …
Bonita Beach dog beach. …
Key West Dog Beach. …
Bark Beach in Miami Beach. …
Jupiter Beach (beach for dogs without leash) …
Panama City Beach Dog Playground. …
Gulf County.
Can dogs go to Clearwater Beach?
The question is often asked of whether Clearwater Beach is suitable for dogs or not. The official answer is a simple no. To see also : The outgoing mayor of Encinitas plans to deliver a final State of the City address Thursday. "Dogs are not allowed on Clearwater Beach."
What is the most dog friendly city in Florida?
The most pet-friendly city in the country is St. Petersburg, Florida, according to a study by Zumper. Tampa was fifth, Orlando was 17th, Miami was 48th and Jacksonville was 91st. Below is the Top 10 in the country.
Is Buccaneer State Park dog friendly?
If you have pet dogs, you will love Buccaneer State Park Beach, as it is a pet-friendly place where your dog can enjoy the natural beauty and fresh air.
Are dogs allowed at Buccaneer State Park?
Located at 1150 South Beach Boulevard, Waveland, MS 39576, Buccaneer State Park is located on the Gulf of Mexico beach, approximately 50 miles from New Orleans. The park is located in a natural setting of large moss-covered oaks, swamps and the Gulf of Mexico. Dogs on a leash are allowed in the park and on the beach.
Do Florida state parks allow dogs?
Pets are allowed in designated areas for daytime use in most Florida state parks.
Are dogs allowed at Gasparilla State Park?
Gasparilla Island State Park Pets must be well behaved and kept on a six foot portable leash at all times. The entrance fee to this park is $ 3 per vehicle and you can enter it every day of the week from 8am until sunset. Dogs are allowed in some areas of Gasparilla Island State Park.
Are dogs allowed at Gulf State Park?
Gulf State Park Hike the pristine dog-friendly trails and see nature up close! Dogs must be kept on a leash in the park at all times, including campsites.
Where is Beacon's Beach?
The park is located north of San Diego, west of I-5, in Neptune in Encinitas. The city of Encinitas operates Leucadia State Beach (listed as Beacon's Beach) – please visit their website for more information.
Are dogs allowed on Leucadia State Beach? Parking: Leucadia State Beach has a small parking lot off Neptune Avenue, but there is usually ample street parking along side streets from the beach. Lifeguards: Lifeguards are available at State Beach Leucadia from 10:00 to 18:00 during the summer months only. Dogs: dogs are not allowed on this beach.
Where is Encinitas beach?
Encinitas is one of the great beach towns in San Diego County, without a doubt, as well as a top-notch surfing destination. This North County seaside gem, not far from downtown San Diego, but far from the atmosphere, offers 45 sumptuous acres of sandy beaches between the lagoons of Batiquitos and San Elijo.
Is Encinitas a beach town?
One of the Best Surfing Cities in the World Located along six miles of Pacific Ocean coastline, Encinitas is a pristine reminder of the historic Highway 101 beach culture that thrived in the mid-1900s.
How far is Encinitas from the ocean?
Yes, the driving distance between Ocean Beach to Encinitas is 26 miles. It takes approximately 29 min to drive from Ocean Beach to Encinitas. Where can I stay near Encinitas?
Are Encinitas beaches good?
Parallel to historic Highway 101, the beaches of Encinitas are some of the best hidden gems in the coastal region of North San Diego County. The terrain varies from white sand beaches to rocky cliffs and legendary surf spots line the coast.
Is Encinitas a part of San Diego?
Encinitas (Spanish for "Small Oaks") is a beach town in the San Diego County area of ​​California.
Where is beacons surf spot?
Beacons is a surf spot in Leucadia north of Encinitas, California. There's an outdoor break, a beach break, and even a nice reef break. Beacons is a versatile surf break that has something for every type of surfer if it works. Surfing is best on a western swell.
How do you get to Beacons surf spot?
To get here with your phone maps, you can punch Leucadia State Beach or 948 Neptune Avenue, Encinitas, CA 92024. The Beacons surf spot is actually Leucadia State Beach but everyone calls it Beacons. Once you arrive at the Beacons surf car park, you will be lucky to find a spot in the car park.
How big are the waves at Moonlight Beach?
| Wave type | Time (PDT) and date | Wave height and period |
| --- | --- | --- |
| Come on good surfing (1 star) | 23:00 (Sat 3 September) | 2.5 feet (0.7m) 13 seconds |
| Best Surf | 8:00 (Saturday 10 September) | 10 feet (3.0 m) 13 s |
| More powerful | 8:00 (Saturday 10 September) | 10 feet (3.0 m) 13 s |
Is Leucadia a city?
Leucadia is a beach community located in the coastal city of Encinitas, California. Leucadia is known for relatively secluded beaches in Southern California's surfing culture.
What does the word Leucadia mean?
A first group of English settlers, with obviously romantic inclinations, called the area 'Leucadia', which in Greek means 'place of refuge'.
Is Encinitas its own city?
Formed in 1986, the city brought together the communities of New Encinitas, Old Encinitas, Cardiff-by-the-Sea, Olivenhain and Leucadia to create a single city steeped in history and steeped in tradition. With a population of 60,000, the City of Encinitas has something for everyone.
Is Leucadia unincorporated?
For more than 100 years, Leucadia has been known as an entity in its own right, but this unincorporated area officially became part of the Municipality of Encinitas in 1986.
What does Leucadia mean in Greek?
A first group of English settlers, with obviously romantic inclinations, called the area 'Leucadia', which in Greek means 'place of refuge'.
Where does the name Leucadia come from? The name Leucadia is of Greek origin as its namesake, Lefkada (Leucadia), is one of the Ionian Islands. Early in the community's history, a San Diego-based development company gave Leucadia and its streets Greco-Roman names that include Hymettus, Neptune, Phoebe, and Daphne.
What is Leucadia known for?
Leucadia is known for the numerous eucalyptus trees that line the main road running north to south, the Coast Highway (aka historic Route 101) and along the railroad tracks that parallel the coastal route.
What is Encinitas CA known for?
Encinitas is home to some of the most beautiful beaches in California and is known for its excellent surfing conditions. Each year, surfers from around the world gather in Encinitas to compete in local surf tournaments.
Is Encinitas worth visiting?
Yes, Encinitas is definitely worth a visit. This quiet surfer town is a quieter alternative to San Diego but is still accessible if you want to explore the big city. It feels more like a local spot and is ideal if you want to surf or enjoy the many beaches and gardens.
What is the zip code for Leucadia?
What is La Jolla's postcode?